Dermatologic Surgeon & Dermatologist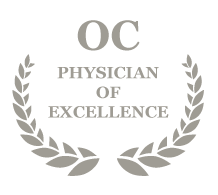 Schedule Dr. Aszterbaum
Dr. Michelle Aszterbaum is a board certified Dermatologist based out of Newport Beach, Ca and serving the greater Orange County area. She has been recognized as an Orange County Physician of Excellence. She founded The Dermatology Center of Newport Beach in 2019.
Dr. Aszterbaum's Background & Education
Dr. Aszterbaum received her MD at the University of California, Davis School of Medicine and interned in internal medicine at Harvard Medical School's Massachusetts General Hospital. She then completed her residency in dermatology at the University of California, San Francisco (UCSF).
Following her residency, Dr. Aszterbaum pursued a research fellowship in skin cancer genetics, specializing in the study of skin cancer prevention in high-risk populations. She was a full-time clinical instructor of dermatology and a researcher at UCSF from 1997 to 2002. During fellowship and afterwards, she published an extensive array of research articles. She also developed the cell line ASZ001 which is now commonly used in testing medications that may help prevent skin cancer. She performs a variety of different dermatological procedures but is widely known for performing MOHs Surgery (also known as Skin Cancer Surgery).
Dr. Aszterbaum holds an appointment as Clinical Assistant Professor at the University of California, Irvine (UCI) and is Past President of the Orange County Dermatological Society.
Dr. Aszterbaum has been practicing Dermatology, Dermatologic Surgery ( such as MOHs surgery) and Laser Therapeutics In Newport Beach since 2001.